Clan master 6ty7 wrote:
 because this is a wikia,and the main purpose of one is to inform the player/viewer about various aspects of the game/tv show,etc
already comes from your words, comments and opinion sections are only part of the ideas on this wikia where substantial for comments and thoughts of the player means is not ESSENTIAL. if you really want to help others work on how they will comment on every page not on how they can whine or complain like messing up on every page, Its not easy removing their mess everyday seeing their thoughts of:
 WTF IGG what did u do to drac?
 you money eater IGG what are u doing?cheating people?
 this hero is a mess, why they created them?
 WTF who the heck make this kind of hero?
 F**K u You stupid hero?
 are u nuts? why getting this hero he is only a garbage?
 WTF I spend 10000$ for a game graphics?
 F**K i spend 3000$ for this game and no PD?
WTF this game is a waste of time
I DONT LIKE ALL THE NEW HERO WHO MAKE THAT ANYWAYS <--- CAPS words everyday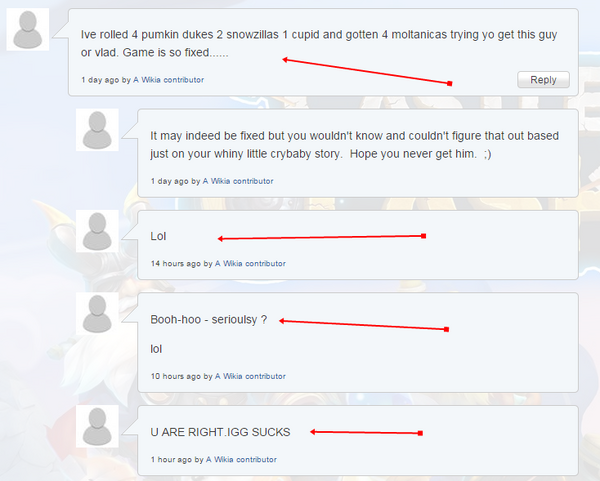 now tell me, how will u deal with this rubbish and gibberish comments every day? start on moltanica and PD page, then aries and Dracula and next to other page all over. Maximum of 19++ pages. If u can give me your solution then i will talk to the admins of the wikia to change that if not THEN DEAL WITH IT are we good then?
note: i will only give u 2 days to find solutions i need 10-20 people who will give me a suggestions about this comment.
you can reply here as a petition and give your action to those what u read "Quoted" above, I will consider things. I need 20 max people to comment here. If u dont reach that then we'll stay as what u see..
SPAMMING POST OR COMMENT IS UNACCEPTABLE AND SUBJECT FOR BEING BANNED
EXPRESSING THOUGHTS WITH BAD LANGUAGE OR FORBIDDEN LANGUAGE IS ALSO SUBJECT FOR BEING BANNED.

knightraven
Ad blocker interference detected!
Wikia is a free-to-use site that makes money from advertising. We have a modified experience for viewers using ad blockers

Wikia is not accessible if you've made further modifications. Remove the custom ad blocker rule(s) and the page will load as expected.