Master Slime
Price:
750
Flying:
no

Base Stats (Level Up)

Range

:
-

Damage

:
1

Hitpoints

:
1

ATK SPD

:
1ms

Move SPD

:
100

Grants 15,000 Skill EXP to Heroes when sacrificed.
The Master Slime is a sacrifice hero who cannot be used in battle but will supply Hero with more EXP when consumed. To sacrifice this Hero, enter your Hero Altar, and select the Hero you wish to increase in skill exp; then, press the "consume" button below the skill exp bar. Choose the Slime from your Hero queue, and consume it.

Sacrifice hero cannot be used in the tower garrison.
Skill (Sacrifice)
Edit

Gives 15,000 skill EXP to heroes when sacrificed.
Master Slime Design History
Edit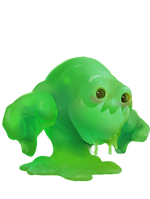 Current

Current Icon



Ad blocker interference detected!
Wikia is a free-to-use site that makes money from advertising. We have a modified experience for viewers using ad blockers

Wikia is not accessible if you've made further modifications. Remove the custom ad blocker rule(s) and the page will load as expected.